Simulation & Analysis Service
Companies in the oil and gas, automotive, aerospace and defence, manufacturing and automation, and electronics industries have used our simulation and Analysis services. Our Services include Running simulations on clusters, Pre-processing, Post-processing, Geometry preparation, Software deployment, Flow analysis and design improvement suggestions, Simulation workflow design and automation: creating simulation templates etc.
We use the most up-to-date CAD/CAE software to solve problems in structural mechanics. We pre-validate design concepts and predict failures using the latest FEA and CFD software and best practises to save clients both time and money. We use FEA and reverse engineering approaches to assist manufacturing companies in incorporating 3D printing into their operations.
Engineering Simulation Service
Simulations can be tailored to the market and application, and then assessed in real time to determine how the solution will perform. This enables our engineering simulation services teams to guarantee that the design is correct and that everyone can be certain that the solution will last a lifetime with no leaks or difficulties.
Engineering Analysis Service
Our engineering analysis services include multidisciplinary engineering, simulation, and consulting services aimed at assessing critical plant equipment, high-temperature piping, pressure vessels, and structures when performance is below expectations, failure has occurred, or mechanical integrity and remaining life must be assessed.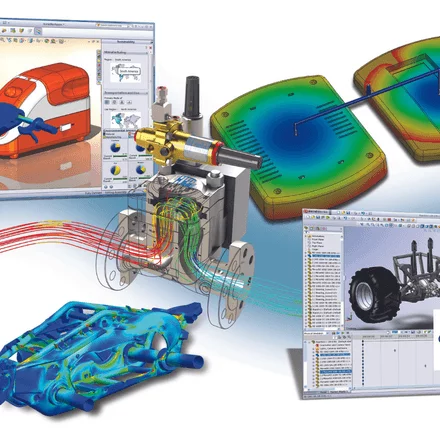 Computational Fluid Dynamics Services
SynnopTech CAD Solutions deliver expert CFD services using cutting-edge simulation tools. Our computational fluid dynamics services can help you improve the efficiency, safety, and effectiveness of your designs. Our experts use a collaborative approach to help you swiftly identify issues before the product goes to market, make confident design decisions, and produce dependable designs. We assist companies who wish to understand the influence of fluid flows and responses under various operating situations with a team of highly qualified engineers who deliver accurate CFD services. We use computer modelling and simulation throughout this process to acquire a thorough understanding of the items that are created and manufactured.
Finite Element Analysis Service
We provide FEA consulting services, including structural, thermal, fatigue, stress analysis, and pressure analysis on fluid carrying structures. We work with design engineers to analyse product behaviour, predict failures, and optimise product design as needed. Our team of FEA specialist engineers assists your design engineers in making early design decisions, hence expediting the product development stage.
We offer mechanical design optimization and analysis services for a variety of plants, including sheet metal product manufacturers, industrial plants, automotive OEM and ancillaries, and pressure vessel makers. We use ANSYS NLS, ANSYS Mechanical, and ANSYS LS Dyna to assess component performance under various operating conditions, loading conditions, repetitive stress cycles, and so on.
Industries We Serve
Oil Gas

Petrochemical & Refinery
Energy & Utility
Specialty Chemical
Manufacturing

Water & Waste Water Treatment
Core Value
Loyalty
Accountability
Integrity
Customer Centric
Trust
What People Say
Sen Kalworn
I would recommend using their services because they offer professional CAD solutions that will suit your needs as well as provide all the necessary support for any work you may need done onsite or off site at competitive rates.
Oliver Jacks
SynnopTech CAD Solutions is one of the best engineering company. I must say what an amazing group and team they are having, with such dedication to work for clients 100% accuracy in any project they take on!
Albert Mars
If your business needs design or drafting, they're the ones for you! There's also BIM consultation where their staff will help automate drawings with 3D visualization software so you can view what it'll look like before starting construction.
Johns Martin
A very well organised consulting organisation having competitive attitude towards providing the cutting edge engineering services to the wide range of industrial as well as commercial projects.
Thomas Heny
A consulting company with a very professional and well-organised attitude, who pride themselves on providing cutting edge engineering services for projects in all fields of civil engineering.