Comprehensive MEP BIM Coordination Services: Pioneering Collaborative Construction Solutions
We at SynnopTech CAD Solutions take pride in offering a comprehensive range of MEP BIM Coordination Services designed to streamline construction projects and ensure seamless collaboration between architectural, MEP, and structural disciplines. With a keen focus on excellence and innovation, we stand at the forefront of BIM Coordination, delivering cutting-edge solutions tailored to meet the unique needs of our clients.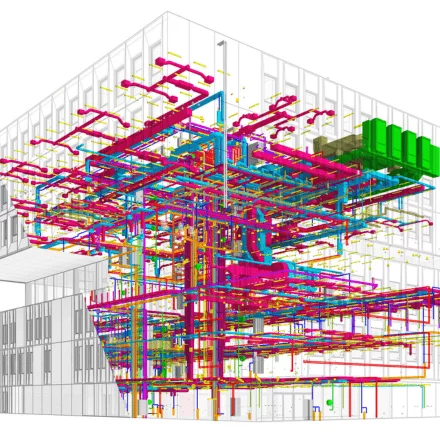 What MEP BIM Coordination Services do SynnopTech CAD Solutions provide?
Internal Coordination: At SynnopTech CAD Solutions, we recognise the significance of maintaining a unified vision throughout the design phase. With our internal coordination process within the MEP discipline covering HVAC, electrical, plumbing, and more, we guarantee a harmonious integration of all elements, creating a cohesive and functional design.
Proficient Clash Detection Capabilities: One of our core strengths lies in our proficient clash detection capabilities. Through rigorous interference checking, we ensure the identification of clashes between architectural, structural, and MEP components. Our team then extracts comprehensive clash reports and performs rigorous design validation, safeguarding your project from major collisions and costly reworks.
Precise MEP Coordination Drawings: With a commitment to precision and attention to detail, we excel at creating MEP Coordination Drawings from coordinated 3D BIM models. By adhering to industry-leading drafting standards and presentation methods, our drawings facilitate a seamless on-site installation process, minimising disruptions and optimising efficiency.
What are the benefits of choosing SynnopTech CAD Solutions for MEP BIM Coordination Services?
Unwavering Quality Assurance: Our dedication to excellence is reflected in our strict quality inspection process. Every drawing we deliver is thoroughly reviewed in order to guarantee appropriate formats and layouts that meet our client's needs.
Skilled and Experienced MEP Engineers: Our team of MEP engineers is the foundation of our success. They have an in-depth comprehension of the complexities of MEP coordination due to their years of experience and expertise. Their knowledge of cutting-edge software tools such as Autodesk Revit MEP, AutoCAD MEP, and Navisworks makes it possible for us to deliver results that exceed expectations.
Customised Solutions for Diverse Industries: We serve a diverse range of industries. Our highly skilled MEP BIM Coordination Services are adaptable to the particular requirements of each industry to guarantee the best possible results for each project.
Industries We Serve
Oil Gas

Petrochemical & Refinery
Energy & Utility
Specialty Chemical
Manufacturing

Water & Waste Water Treatment
Core Value
Loyalty
Accountability
Integrity
Customer Centric
Trust
What People Say
Sen Kalworn
I would recommend using their services because they offer professional CAD solutions that will suit your needs as well as provide all the necessary support for any work you may need done onsite or off site at competitive rates.
Oliver Jacks
SynnopTech CAD Solutions is one of the best engineering company. I must say what an amazing group and team they are having, with such dedication to work for clients 100% accuracy in any project they take on!
Albert Mars
If your business needs design or drafting, they're the ones for you! There's also BIM consultation where their staff will help automate drawings with 3D visualization software so you can view what it'll look like before starting construction.
Johns Martin
A very well organised consulting organisation having competitive attitude towards providing the cutting edge engineering services to the wide range of industrial as well as commercial projects.
Thomas Heny
A consulting company with a very professional and well-organised attitude, who pride themselves on providing cutting edge engineering services for projects in all fields of civil engineering.