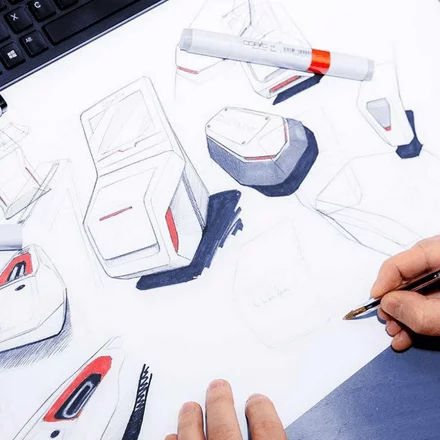 Product Design and Development Company
SynnopTech CAD Solutions is a multi-discipline engineering Services Company serving industries like oil & gas, petrochemicals, metal fabrications, furniture and millwork, etc. We provide solutions that capture every part of your product design and build through better manufacturing documents starting from Scan to CAD, hand-drawn sketches, reference pdf drawings, CAD models, etc.

We take your product ideas and transform them into final designs, optimising each phase of development from concept through digital prototype and manufacturing inspection while adhering to norms and best practices throughout the process. We expect that product performance will eliminate the need for several physical trials, resulting in a reduction in associated expenses and an improvement in time to market for the product. We work with a range of high-end CAD tools, including AutoCAD, Inventor, SolidWorks, Creo, CATIA, Solid Edge, and NX, that helps us in improving productivity and efficiency in your product development process.
Industries We Serve
Oil Gas

Petrochemical & Refinery
Energy & Utility
Specialty Chemical
Manufacturing

Water & Waste Water Treatment
Core Value
Loyalty
Accountability
Integrity
Customer Centric
Trust
What People Say
Sen Kalworn
I would recommend using their services because they offer professional CAD solutions that will suit your needs as well as provide all the necessary support for any work you may need done onsite or off site at competitive rates.
Oliver Jacks
SynnopTech CAD Solutions is one of the best engineering company. I must say what an amazing group and team they are having, with such dedication to work for clients 100% accuracy in any project they take on!
Albert Mars
If your business needs design or drafting, they're the ones for you! There's also BIM consultation where their staff will help automate drawings with 3D visualization software so you can view what it'll look like before starting construction.
Johns Martin
A very well organised consulting organisation having competitive attitude towards providing the cutting edge engineering services to the wide range of industrial as well as commercial projects.
Thomas Heny
A consulting company with a very professional and well-organised attitude, who pride themselves on providing cutting edge engineering services for projects in all fields of civil engineering.