MEP Engineering Services
MEP Drafting Design Services are, without a doubt, the first phase in any project's construction. SynnopTech CAD Solutions can help to speed up construction and make the working environment more pleasant.
We offer MEP Engineering Services (mechanical, electrical, and plumbing engineering and consulting services) to companies worldwide. Our services span the building of new projects and renovation projects in a variety of settings, including commercial, governmental, institutional, and residential.
We can work with your team to create a fully coordinated MEP BIM model. Clients receive detailed analyses and reports to improve their design and the design process.As a global structural engineering firm, we understand how to modify our executions to meet current international standards.
MEP BIM Coordination Services
We are a trusted name for MEP engineering firms in India. We use a technology-driven process to ensure that you receive the best MEP engineering service possible. We collaborate with architects, builders, consultants, and contractors to meet their mechanical, electrical, & plumbing (MEP) needs. Our MEP specialists develop MEP drawings & precise BOQs that comply with building codes using automation software.
MEP Shop Drawing Services
SynnopTech CAD Solutions has vast expertise and experience in offering manufacturers, engineers, fabricators, and consultants' assembly, casting, machining, and sheet metal designs. We provide exact electrical equipment dimensions and accurate layout details to ensure that installations operate properly.
We provide MEP drawings that are meticulously drawn down to the level of pipes, accessories, and connections. Clarity ensures that installation and coordination on the job site will be simple. Additionally, improved readability allows you to conduct a more thorough audit of site work.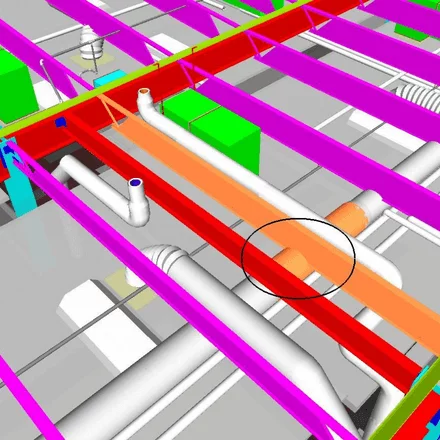 MEP Clash Detection Services
Our considerable experience working with various CAD and BIM platforms enables us to provide an MEP model for your building that is free of crashes and errors. We provide MEP contractors and consultants with the tools and resources they need to complete efficient MEP system installations while minimizing rework and material waste.
Our experts combine a BIM model in Revit to generate conflict reports for the construction project. Each project is assigned a specialized clash manager responsible for documenting and tracking the status and history of each clash.
We conduct weekly online clash review meetings, bringing together all subcontractors and construction managers and resolving each clash individually until coordination drawings can be extracted from the model. This process continues until coordination drawings can be extracted from the model.
Quantity take-offs and Bill of Materials (BOM)
The key economic aspect for any project is the Bill of Quantities (BOQ), Bill of Materials (BOM), Cutting Lists, and Quantity Take-Offs. BOQ & BOM are created during the preliminary stage of fabrication, and they are used to estimate the project cost. It comprises all data on scope and materials and any directly or indirectly related fabrication of components. It aids the owner in precisely designing the project's profitability and feasibility. Metal cutting lists are an important part of the architectural element fabrication process. It assists in limiting the expected cost by reducing waste and providing final fabrication information. We offer our clients all relevant exact BOQ's, BOM's, and Cutting Lists according to industry standards at reasonable costs.
3D Modeling and Rendering MEP Layout
Our team members' years of experience, professional skills, and adaptive technologies enable us to provide architects, general contractors, MEP consultants, home builders, and retailers with world-class Revit MEP 3D modeling solutions. Our 3D BIM Modeling services assist contractors, surveyors, manufacturers, consultants, and suppliers, in identifying potential problems early before they manifest themselves as actual issues on the construction sites.
Trained and experienced mechanical engineers lead our MEP modeling services team in charge of every part of an MEP modeling project. Our engineers create detailed 3D MEP design drawings for electrical and mechanical disciplines. We improve interior and exterior work using V-Ray and Revit for 3D architectural visualization.
Industries We Serve
Oil Gas

Petrochemical & Refinery
Energy & Utility
Specialty Chemical
Manufacturing

Water & Waste Water Treatment
Core Value
Loyalty
Accountability
Integrity
Customer Centric
Trust
What People Say
Sen Kalworn
I would recommend using their services because they offer professional CAD solutions that will suit your needs as well as provide all the necessary support for any work you may need done onsite or off site at competitive rates.
Oliver Jacks
SynnopTech CAD Solutions is one of the best engineering company. I must say what an amazing group and team they are having, with such dedication to work for clients 100% accuracy in any project they take on!
Albert Mars
If your business needs design or drafting, they're the ones for you! There's also BIM consultation where their staff will help automate drawings with 3D visualization software so you can view what it'll look like before starting construction.
Johns Martin
A very well organised consulting organisation having competitive attitude towards providing the cutting edge engineering services to the wide range of industrial as well as commercial projects.
Thomas Heny
A consulting company with a very professional and well-organised attitude, who pride themselves on providing cutting edge engineering services for projects in all fields of civil engineering.