Building Information Modeling
Building Information Modeling (BIM) is a novel method for planning and documenting various construction projects. It's a smart digital depiction of a facility's physical and functional characteristics. It provides details to plan, design, construct, and manage buildings and infrastructure. Our BIM Modeling Services team includes experienced architects, software developers, engineers, management consultants, and designers who bring a unique viewpoint to your problems while providing holistic solutions. Offering advanced BIM services, we have become the preferred and trusted partner for prominent construction projects around the globe.
BIM LOD 100-500 modeling services
SynnopTech CAD Solutions possesses internationally recognized Level of Development (LOD) standards ranging from 100 to 500. These development models are specifically designed for 3D visualization, construction-quality quantities, scheduling, estimations, on-site production control, and fabrication at various phases. Our experts will generate a 3D model of your project based on the requirement, using the Level of Detail (LOD) industry guidelines. We also provide LOD animation services for virtual construction sequencing and simulation to generate insights into how and what will be built.
Making PDF/Sketch/CAD to Revit Conversions Easy
The need for seeing a 3D model with specifics of a yet-to-be-built structure is growing. This not only helps to show every part of the project in-depth, but it also helps to turn the concept into a concrete proposal. Our BIM modelers can work with any drawing medium and produce precise models in Revit or ArchiCAD. Our in-depth understanding of BIM modeling enables us to create intelligent models that efficiently use inputs from many sources and transform them into meaningful 3D models. Our BIM engineering service can convert scanned paper sketches and precise and dimensionally accurate CAD drawings to BIM or ArchiCAD compliant models.
Revit Family creation
The process of building a Revit family consists of the production of a library of 2D/3D block-like objects that are used to create three-dimensional BIM models. We use software solutions such as Autodesk Revit architecture to develop various forms of Revit family libraries. The primary advantage of Revit families is that any modification to a family type is immediately updated and mirrored throughout the project that utilizes that family type. We can design custom Revit families to meet any specific requirement.
Point Cloud Scan to BIM
Projects like Building extension & modifications, building maintenance & surveillance, Renovation activities, Refurbishment, building demolition tasks, retrofit purposes and Facility management procedures benefit from Scan to BIM services. We offer services to architects, general contractors, mechanical/plumbing/HVAC contractors, and civil contractors working in the construction business.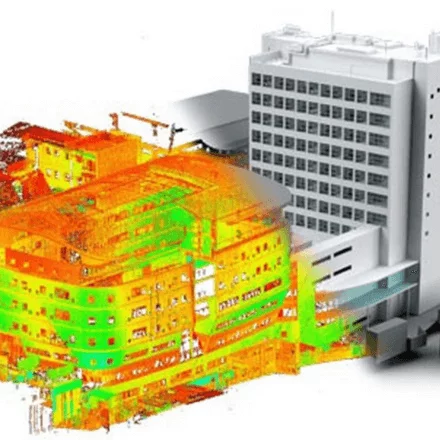 Trusted BIM Engineering Company
With our significant experience in BIM projects in various sectors such as engineering, construction, fabrication, and erection, we can provide our clients with a speedy BIM turnaround with the least amount of time and money spent on it. We assist companies by providing the appropriate advice on the BIM adaptation procedure without requiring them to make a significant initial investment.
As-built 3D modeling
As-built diagrams are used to document any deviations from the architect's original designs that occur during construction. They are generated in the middle of the project or after it is completed. Completed building components such as walls, doors, windows, millwork, and plumbing fixtures are documented in these 2D drawings. These records can be used for future building renovations, retrofitting, and restoration. We can convert 2D as-built documents into 3D BIM Modeling Services, which gives the data needed to see the as-built floor plans and any plumbing and electrical fixtures. We have a team of skilled engineers, drafters, and 3D modelers who can make the process of developing 3D as-built models look simple.
Industries We Serve
Oil Gas

Petrochemical & Refinery
Energy & Utility
Specialty Chemical
Manufacturing

Water & Waste Water Treatment
Core Value
Loyalty
Accountability
Integrity
Customer Centric
Trust
What People Say
Sen Kalworn
I would recommend using their services because they offer professional CAD solutions that will suit your needs as well as provide all the necessary support for any work you may need done onsite or off site at competitive rates.
Oliver Jacks
SynnopTech CAD Solutions is one of the best engineering company. I must say what an amazing group and team they are having, with such dedication to work for clients 100% accuracy in any project they take on!
Albert Mars
If your business needs design or drafting, they're the ones for you! There's also BIM consultation where their staff will help automate drawings with 3D visualization software so you can view what it'll look like before starting construction.
Johns Martin
A very well organised consulting organisation having competitive attitude towards providing the cutting edge engineering services to the wide range of industrial as well as commercial projects.
Thomas Heny
A consulting company with a very professional and well-organised attitude, who pride themselves on providing cutting edge engineering services for projects in all fields of civil engineering.