Streamlining Building Designs with SynnopTech CAD Solutions' MEP Clash Detection Services
To guarantee the smooth incorporation of Mechanical, Electrical, Plumbing, and Fire Sprinkler systems into building designs, SynnopTech CAD Solutions provides cutting-edge MEP Clash Detection services. With our accurate clash detection workflow, projects can move forward without any unnecessary setbacks or extra effort. We offer a wide variety of clash detection services to improve the productivity of construction projects by combining state-of-the-art technology with exceptionally qualified specialists.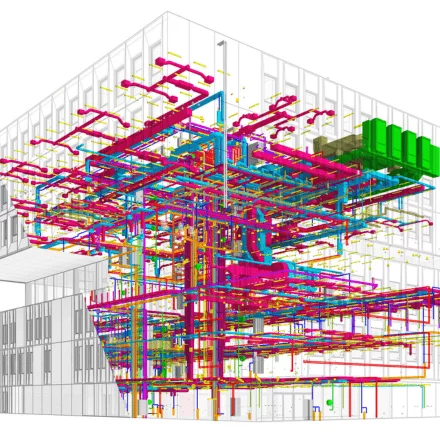 What MEP Clash Detection Services do SynnopTech CAD Solutions provide?
Clash Detection for Mechanical and HVAC Systems: MEP Coordination is one of the strong suits of SynnopTech CAD Solutions and one of our specialities is Clash Detection for Mechanical and HVAC Systems. Our mechanical, electrical, and plumbing engineers use modern software to produce accurate plan, elevation, and section drawings. We optimise cost and time, which contributes to an increase in MEP design accuracy through the detection of clashes between different systems and trades.
Clash Detection for 4D Workflow: 4D Workflow Clash Detection is another component of SynnopTech CAD Solutions' MEP Clash Detection service that integrates construction schedules with the MEP model. By using 4D Workflow Clash Detection, we can speed up the building process, reduce waste, and stick to the set budget. Our experienced MEP coordinators will make sure everything is coordinated perfectly in order to get the best building plans possible.
Different Levels Clash Detection Services: SynnopTech CAD Solutions offers several different levels of Critical, Moderate, and Low Clash Detection. In order to generate thorough clash reports, we make use of sophisticated software. These reports demonstrate that there were collisions involving MEP systems, architectural elements, and structural components. Because of the potential impact, they could have on the building's functionality and safety, critical clashes require immediate attention. Because of the expertise of our MEP coordinators, we are able to prioritise and resolve clashes in an efficient manner, which results in seamless coordination and high-quality building designs.
Why Choose SynnopTech CAD Solutions?
SynnopTech CAD Solutions provides thorough MEP Clash Detection services to guarantee effective and precise project coordination. We perform thorough analyses using state-of-the-art software like Navisworks. We can minimise construction delays and maximise resource utilisation because of our expertise in using these cutting-edge tools for early clash detection and resolution. Our commitment to accuracy and creativity allows us to facilitate our clients' successful project completion.
Industries We Serve
Oil Gas

Petrochemical & Refinery
Energy & Utility
Specialty Chemical
Manufacturing

Water & Waste Water Treatment
Core Value
Loyalty
Accountability
Integrity
Customer Centric
Trust
What People Say
Sen Kalworn
I would recommend using their services because they offer professional CAD solutions that will suit your needs as well as provide all the necessary support for any work you may need done onsite or off site at competitive rates.
Oliver Jacks
SynnopTech CAD Solutions is one of the best engineering company. I must say what an amazing group and team they are having, with such dedication to work for clients 100% accuracy in any project they take on!
Albert Mars
If your business needs design or drafting, they're the ones for you! There's also BIM consultation where their staff will help automate drawings with 3D visualization software so you can view what it'll look like before starting construction.
Johns Martin
A very well organised consulting organisation having competitive attitude towards providing the cutting edge engineering services to the wide range of industrial as well as commercial projects.
Thomas Heny
A consulting company with a very professional and well-organised attitude, who pride themselves on providing cutting edge engineering services for projects in all fields of civil engineering.