DETAILED ENGINEERING & DESIGN SERVICES
SynnopTech CAD Solutions Offers State-of-the-art Detailed Engineering Services to ensure optimum quantities, work volumes, and constructability.
SynnopTech CAD Solutions provide a comprehensive multi-disciplinary engineering solution that uses cutting-edge software for FEM analysis, design, and detailing, as well as plant 3D modeling and drafting. We create all the drawings, diagrams, and datasheets needed to move a project from the conceptual design phase to the actual procurement and construction phases, including site plans, piping and instrumentation diagrams, process flow diagrams, 2D/3D models, isometrics, material take off, and bills of materials.
Our team can visualize various cost-effective engineering design concepts while maintaining high quality. We are experienced in providing design and detail engineering services across various industries and fields of study. This includes storage, plants, petrochemicals, power, fertilizer, cryogenics, pharmaceuticals, metals, minerals, and onshore oil and gas refineries.
Sheet Metal drawings
SynnopTech CAD Solutions provides expert sheet metal design services at affordable prices. We have extensive experience in the field of sheet metal design, as well as a thorough understanding of the components of aesthetics and functional design. Our Sheet Metal Design Services can fulfill all your objectives, whether you want to quicken the pace of your project or develop a product. With our assistance, you'll be able to design sheet metal components, products, and assemblies and have accurate fabrication drawings made.
Reverse engineering
SynnopTech CAD Solutions is a renowned reverse engineering service provider that offers computer-aided software design to replicate an existing physical product while also understanding its functionality and design. We have a team of experienced engineers who use the latest software and technology to provide accurate and detailed designs of products. With the help of CAD drawings and data, we replicate the product and produce completely functional parts that will meet your performance requirements.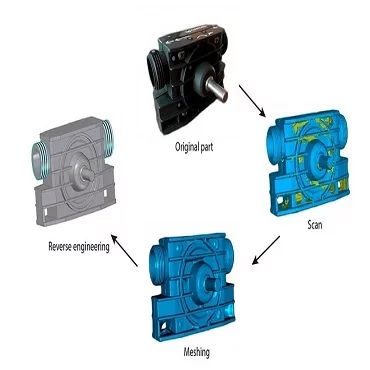 Fabrication drawings
We offer fabrication drawing services for industrial structures such as technological structures, pipe racks, warehouses, platforms, conveyor galleries, and junction houses, among others. Our team can analyze complicated design difficulties and develop a solution that has a beneficial impact on the project. We have expertise in various fields, including civil engineering, CAD services, architecture, MEP designs, and steel and concrete construction materials. We offer a wide range of detailed engineering services, including Beam, Handrail, Column, Staircase, Cage Ladder, and more.
P&ID drawings
P&ID Drawings are essential for sustaining and adjusting the process, and they must be kept up to date. These diagrams are necessary because they show the physical sequence of equipment and systems and how they interact. Our piping and instrumentation diagram (P&ID) services are performed using various leading tools, including AutoCAD, AutoCAD Architecture, PDMS, Plant 3D, SOLIDWORKS, Siemens COMOS, SP3D, CADWorx, AVEVA E3D, and others, to meet the needs of our client's P&ID projects.
Industries We Serve
Oil Gas

Petrochemical & Refinery
Energy & Utility
Specialty Chemical
Manufacturing

Water & Waste Water Treatment
Core Value
Loyalty
Accountability
Integrity
Customer Centric
Trust
What People Say
Sen Kalworn
I would recommend using their services because they offer professional CAD solutions that will suit your needs as well as provide all the necessary support for any work you may need done onsite or off site at competitive rates.
Oliver Jacks
SynnopTech CAD Solutions is one of the best engineering company. I must say what an amazing group and team they are having, with such dedication to work for clients 100% accuracy in any project they take on!
Albert Mars
If your business needs design or drafting, they're the ones for you! There's also BIM consultation where their staff will help automate drawings with 3D visualization software so you can view what it'll look like before starting construction.
Johns Martin
A very well organised consulting organisation having competitive attitude towards providing the cutting edge engineering services to the wide range of industrial as well as commercial projects.
Thomas Heny
A consulting company with a very professional and well-organised attitude, who pride themselves on providing cutting edge engineering services for projects in all fields of civil engineering.