Discover the Power of Point Cloud to BIM Services with SynnopTech CAD Solutions
SynnopTech CAD Solutions is a pioneer in the field of Point Cloud to BIM Services. For years, the company has offered services to the needs of engineers, architects, and contractors working in the construction industry. Our area of expertise lies in the transformation of Point Cloud data into beneficial as-built BIM models, which makes it possible to execute renovation and demolition projects more efficiently.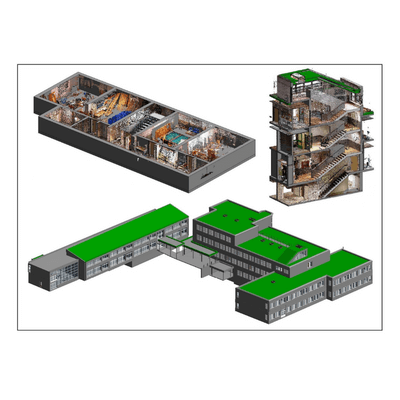 The Process of Converting Point Cloud to Intelligent As-Built BIM Models
At SynnopTech CAD Solutions, we excel in managing large volumes of scanned data to develop information-rich 3D BIM models. Our team expertly handles drone-captured 3D scan data, showcasing our technological proficiency in creating precise and accurate models. Through our efficient processes, we eliminate the need for repeated site visits, resulting in significant time and cost savings for our clients.
What are the benefits of Outsourcing Point Cloud to BIM Services to SynnopTech CAD Solutions?
SynnopTech's Expertise in Handling Scanned Data and BIM Modeling
With years of experience, our expertise lies in effectively managing high volumes of scanned data and transforming it into valuable BIM models. We specialise in developing 3D BIM models for architectural, structural, and MEP requirements, ensuring a realistic view of your construction project.
Accurate and Cost-Effective Solutions
At SynnopTech CAD Solutions, we pride ourselves on our commitment to accuracy and cost-effectiveness. Our accurate BIM models enable precise cost estimations, streamlined schedules, and better onsite productivity through improved coordination among construction professionals. Our BIM solutions empower you to make informed decisions, leading to successful project outcomes.
Comprehensive MEP Models
As MEP contractors play a crucial role in construction projects, we offer detailed as-built MEP models extracted from Point Cloud data. Our MEP models cater to the needs of mechanical, electrical, and plumbing contractors, ensuring seamless integration of building systems.
Industries We Serve
Oil Gas

Petrochemical & Refinery
Energy & Utility
Specialty Chemical
Manufacturing

Water & Waste Water Treatment
Core Value
Loyalty
Accountability
Integrity
Customer Centric
Trust
What People Say
Sen Kalworn
I would recommend using their services because they offer professional CAD solutions that will suit your needs as well as provide all the necessary support for any work you may need done onsite or off site at competitive rates.
Oliver Jacks
SynnopTech CAD Solutions is one of the best engineering company. I must say what an amazing group and team they are having, with such dedication to work for clients 100% accuracy in any project they take on!
Albert Mars
If your business needs design or drafting, they're the ones for you! There's also BIM consultation where their staff will help automate drawings with 3D visualization software so you can view what it'll look like before starting construction.
Johns Martin
A very well organised consulting organisation having competitive attitude towards providing the cutting edge engineering services to the wide range of industrial as well as commercial projects.
Thomas Heny
A consulting company with a very professional and well-organised attitude, who pride themselves on providing cutting edge engineering services for projects in all fields of civil engineering.